PINPOINT MULTIPLE HVAC/R LEAKS WITH UV DYE

PINPOINT AC LEAKS WITH OEM GRADE UV DYE
Leaks in any size AC&R system; residential, commercial or large industrial facilities, can very quickly become a major concern. Too often, the true consequences of not having a reliable leak detection/preventive maintenance program in place can go unappreciated until it is too late. The loss of a "little" refrigerant or lubricant can lead to far more than just inconvenience. Left undetected, even the smallest refrigerant leak can grow into major problems.
Spectroline® fluorescent dyes are proven to be fastest, easiest and most cost-effective way to pinpoint air condition leaks, confirm repairs and be a key part of your comprehensive preventive maintenance program. You never need to flush them out, so they can stay safely in the system, working to for you 24/7 to find any future leaks.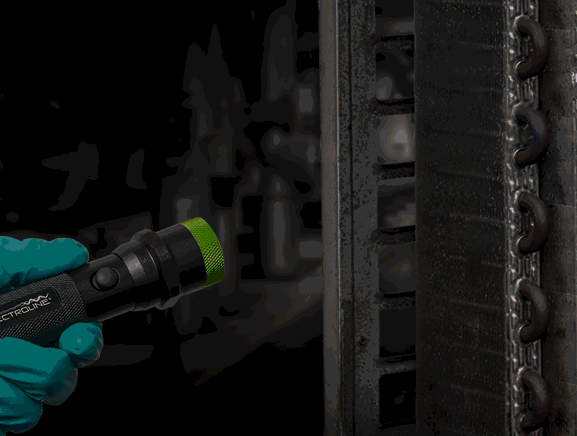 | | | | |
| --- | --- | --- | --- |
| | | | |
| Universal/POE Dye | Co-Solvent Free | Made in USA | NSF Certified |
Spectroline® offers a wide range of products developed to pinpoint the exact source of every leak in any air conditioning, refrigeration or industrial facilities system, including OEM-Grade fluorescent dyes, high performance leak detection lamps, kits and specialty products, all designed to meet and surpass the demanding requirements of you – the HVAC/R professional.

HVAC/R LEAK DETECTION WITH FLUORESCENT DYE
Fluorescent Leak Detection is an extremely accurate and effective way to find HVAC/R leaks. That being said, it's important to choose a brand who produces pure, safe, highly concentrated dyes and quality inspection lamps to get the most benefit from the technology.
NEED HELP? CALL OUR CUSTOMER SERVICE AT +(65) 6571 0668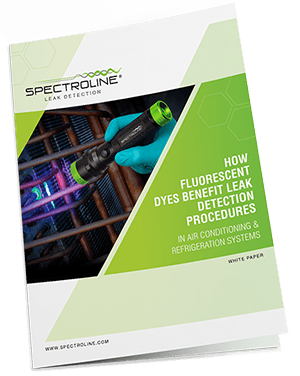 WHAT IS FLUORESCENT LEAK DETECTION?
Which dyes are safe to use in my HVAC system?
What kind of lamp should I use?
These questions and more are answered in the FREE guide which presents an in-depth look at a more advanced form of preventative maintenance and leak detection.
ANSWERS TO POPULAR QUESTIONS
WHY IS SPECTROLINE TRUSTED BY MORE OEMS THAN ANY OTHER BRAND?

Spectronics Corporation invented fluorescent leak detection in 1955. Today, we are the world's leading manufacturer of ultraviolet equipment and fluorescent leak detection dye. Spectroline products are the first and only choice for AC&R professionals. Our OEM-approved fluorescent dyes are co-solvent free, NSF certified, and can safely remain within AC&R systems.

HOW DO I USE FLUORESCENT LEAK DETECTION DYE?

Simply add our patented fluorescent dye to the suspect system. Let the dye circulate. Once the dye has permeated the system, scan for leaks with one of our high-intensity leak detection flashlights. All leak sites will glow brightly with escaping fluorescent dye.

WHICH INJECTION METHOD SHOULD I USE?

Use our EZ-Ject™ or GLO-STICK® injection method for small-to-medium sized AC&R systems – such as residential units, ice machines, window units, and refrigerators. Use our BigEZ™ injection method for medium-to-large sized AC&R systems – e.g., commercial units, supermarket units, refrigerated warehouses, food and dairy plants, and industrial facilities. Review our product dosage information for the correct application.

WHAT ARE CO-SOLVENTS AND HOW DO THEY ALTER SYSTEM PERFORMANCE?

Co-solvents are chemical substances added to increase the solubility of specific compounds. This means co-solvents harmfully change the original lubricant properties of refrigerant oil. Co-solvents can lead to premature wear and outright damage. Poorly manufactured fluorescent dyes typically contain high levels of co-solvents. In addition to changing system properties, co-solvents have the potential to deteriorate system metals.

WHY IS DYE CONCENTRATION IMPORTANT?

Dye fluorescence is dependent on the ratio of fluorescent material to carrier oil. Poor performing dyes typically have low levels of fluorescent material. Simply put, poor dyes lack the concentration necessary to provide an effective fluorescent response. Spectroline dyes are concentrated and able to fluoresce all leak areas brightly. This means Spectroline dyes are more economical because less dye is used per application.

HOW LONG DOES IT TAKE TO FIND A LEAK?

In small-to-medium sized systems, you can find leaks within minutes. In commercial systems, it may take a few hours for the dye to circulate completely. For preventative maintenance, add Spectroline dye long before you have a problem. A technician can perform an inspection within a matter of seconds if the dye has already had time to fully circulate.